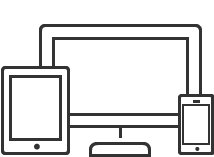 WEB
Build and nurture your online presence.
Customers have a better user experience when your website works on any device, comes up in search, and performs.
Branding Consultation, Design and
Standards Implementation
Smart Website Design
Website Optimization
Google Analytics Integration
Business Email Setup E-commerce Solutions
Internet Marketing including
Social Media Marketing
SEARCH MARKETING SERVICES
SEO (Search Engine Optimization) Monitoring
Local SEO
SEO Consulting
SEO Copywriting
SEO Packages
Market Analysis
Search Engine Marketing (SEM)
Setup Campaign
Pay Per Click (PPC) Marketing
Keyword Research
Precise Targeting
Search Results Reporting
Social Media Management
Social Media Integration
Social Media Monitoring
Social Media Optimization
Content Development
Content Scheduling
Content Strategy
Content Posting
Event Planning
MailChimp Email Marketing
Provide Customer Service
Customer Loyalty Programs
Promote Sales, Products, and Events
Increase Fans, Friends, Likes,
Followers and Awareness
Social Media Reporting & Analytics
Directory Services
Contests & Promotions
Facebook Ads
Google Adwords
Yelp! Ads
Twitter Ads
LinkedIn Job Ads
Live Chat Tools
Text Message Marketing
Environmental Graphics
©2007-2018 Ray Rico Freelance. All rights reserved.
2294 Young Avenue, Memphis, Tennessee 38104 -
Phone: (901) 800-1172