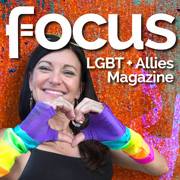 July 28, 2015
For Immediate Release
LGBT News, Products and Services Find a Home in Print
Focus Magazine to publish September 1, 2015
MEMPHIS, Tenn. – Ray Rico Freelance is doing what has not yet been done in Memphis. The Cooper Young-based design agency will publish "Focus Magazine" in September 2015. The magazine will provide a centralized place, online and in print, for lesbian, gay, bisexual and transgender (LGBT) news and information, and product and service advertising. The inaugural edition is aptly named, "The Coming Out Issue," and will hit stands on September 1, 2015.
"The LGBT population in Memphis and regionally is being overlooked when it comes to news that is just for LGBT persons. There are many organizations that serve the needs of this audience, but nothing that is published regularly with aggregated content that is completely LGBT-centric," said Ray Rico, owner of Ray Rico Freelance. "We want to fill that void."
The decision to publish Focus comes on the heels of The Supreme Court ruling in favor of marriage equality for same-sex couples. "The ruling is a game changer," Rico says, "and bolsters the ability for LGBT products and interests to become mainstream instead of marginalized."
"The long fight for marriage equality has had many allies in the heterosexual community," Rico said. "Focus Magazine is for our them, too. It will be an opportunity for these friends, or really any business, to reach this unique target audience. Our readers are typically well educated with an above-average disposable income. They are kind of every marketer's dream!"
To assure comprehensive coverage, Ray Rico Freelance will collaborate with individuals and LGBT-focused groups like Friends For Life, MGLCC, TEP, and Mid-South Pride who will have active roles as contributors. Focus Magazine will offer news, arts & entertainment, community, lifestyle, and trending topics content.
"We want everyone to have access to this important publication, so we are offering Focus Magazine for free online and in print," Rico said. "The printed version will be published every other month while the online version will be uploaded frequently with new and engaging content." The free print version can be picked up at businesses in the Memphis area or readers can subscribe for mailed copies for $1.00 per issue.
Full-color advertising space in this 32-page slick is also being offered at a low cost. "Obviously, we have to pay for the production and distribution, but this is a product from our hearts," Rico said. "In fact, part of the profits will be donated to non-profit groups that serve the LGBT community."
Those interested in contributing content or placing ads are encouraged to contact the agency before its August deadline. Ray Rico Freelance can be reached at 901.800.1172, rico@rayricofreelance.com, or online at rayricofreelance.com.
###
For more information, contact: Ray Rico, 901.800.1172 or rico@rayricofreelance.com.