Specialized in-house printing geared to SAVE you time and money.
Over the course of the last decade, we have been a leader in local printing + production. Now, we are continuing our trend and offering specialized in-house printing.
Offering more cost-savings:
Same-day (1 hr. copies)
Color + B/W – 8.5

"

x11

"

up to 11

"

x17

"

Booklet printing – up to 24 pages
Poster printing, Photo finishing
Brochure printing
Envelope printing
Cardstock Printing
Banners
Finishing, folding, stapling + saddle stitching
Quick turnaround – RUSH available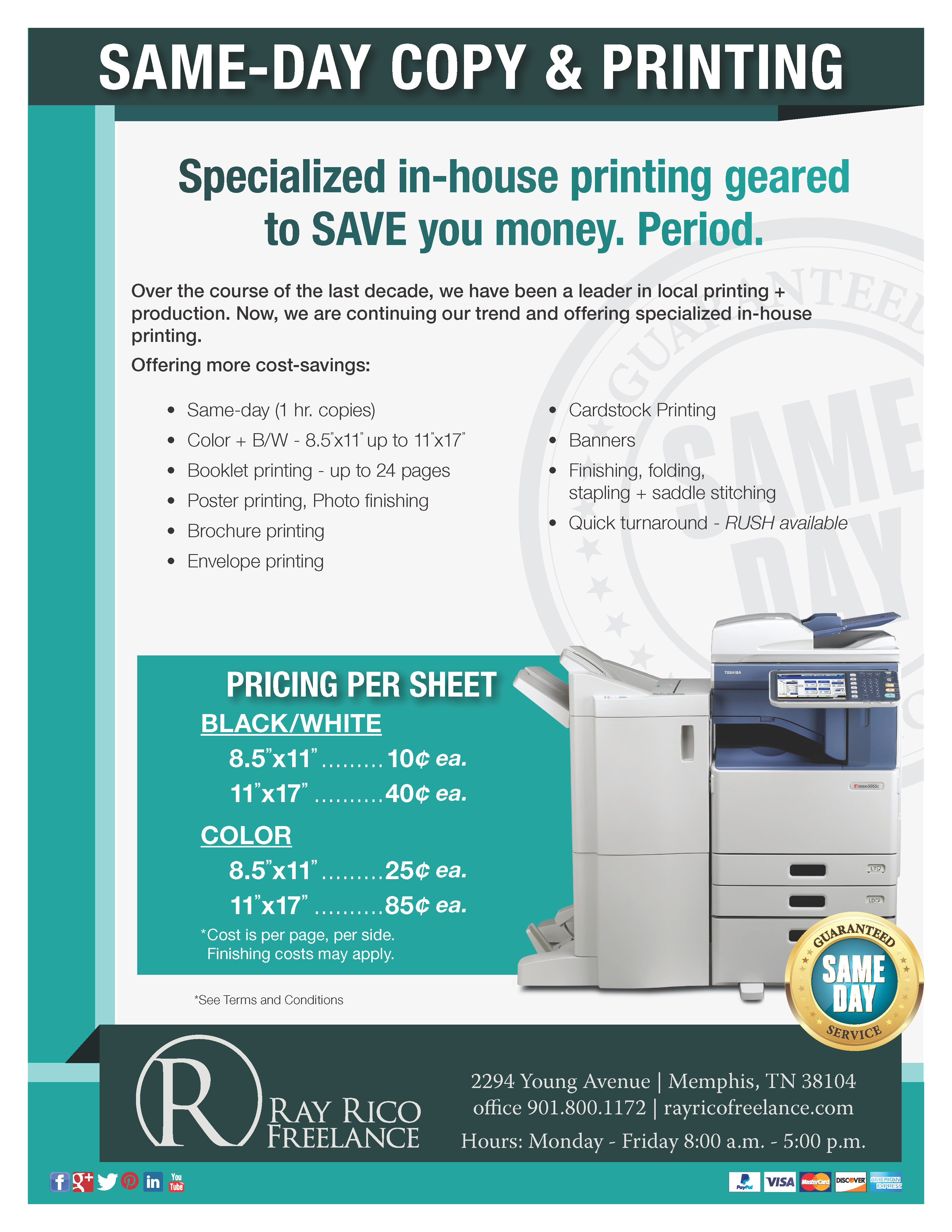 ---
TERMS AND CONDITIONS
TURNAROUND TIMES
Same-Day turnaround is available for many digital projects. The turn around time on your order with Ray Rico Freelance (RRF) starts when you've paid in full, we have all information required to complete your order (all artwork, correct files, etc.) and your artwork has been approved (if applicable). Order must be placed by 12:00 Noon and Same-Day Service must be requested at time of order. Delay in receipt of *any* of this info could result in production delays. Most artwork is sent within 24 hours, after receiving payment and all necessary information. Our current turnaround time is 5-7 Business Days Average + Shipping. Complex orders/add-ons may increase turnaround. Delay in approval of artwork could also result in production delays.
If you have a deadline for your order, it is very important that you let us know when placing your order; a rush fee may apply if there is not enough time to complete your order under normal circumstances. If you do not advise us about a due date until after your order has been paid for and pushed through our system, we may not be able to accommodate your request. Any circumstances out of RRF's control (i.e.: weather delays, shipping errors by the supplier, etc.) may also require more time and are not factored into the initial turn around time estimate.
The standard completion time for most projects is 5-7 business days, after final proof approval.
Project turnaround times can be expedited, and some circumstances may require additional fees.
QUANTITY
The following quantities are eligible for Same-Day Service: Digital Printing & Copies: Black & White (quantities less than 2,000), Color (quantities less than 1,000); Binding (less than 25 booklets / 24 sheet maximum with covers); Posters (quantities over 5 / over 11"x17"; print-ready artwork must be provided). We reserve the right to limit quantities.
FILE TYPES
PDF files are preferred and recommend. If you are designing in Adobe Illustrator, flatten to one layer and all fonts should be converted to outlines. Save as a PDF. We cannot be responsible, however, for fonts not converted to outlines or images that are not properly embedded. We can accept files compatible with Photoshop or Illustrator: PSD, PDF, EPS, TIFF or JPEG. Files should be 300 dpi (high resolution), CMYK (color mode).
We can print both RGB and CMYK files. We can not guarantee colors due to the nature of our print technologies. We recommend that you convert all files to CMYK before embedding them in your document.
PROOFS
Proofs are provided only upon request; there is a fee for all proofs. Our standard procedure is that we do not provide proofs for same-day printing. The understanding is that files will print EXACTLY as provided, that the customer cannot make any changes once the order is placed. The customer also assumes all responsibility for typographical errors.
DESIGN OWNERSHIP
Full ownership of all purchased design elements is given to the client upon full payment.
The client may request a copy of purchased artwork files at any time. RRF is not responsible for the retention of artwork files.
Contact RRF for more information.
FOR VERY LARGE FILES
Sharing:
Dropbox.com (link for instructions) Registration is free. The server will not allow a folder to be uploaded, so you either have to archive the file as a "Zip or Stuff it" file, or just upload an actual document. After upload, share the folder to the appropriate person at RRF. Please e-mail randall@rayricofreelance.com or call 901.800.1172 once the file is completely uploaded.
Google Drive (google.com/drive). For instructions, visit support.google.com/drive/answer/2494822?hl=en
BILLING & PAYMENT
All orders are paid for in full in advance. Please provide a credit card or cash when placing an order. Your credit card will be charged for the full amount immediately. All orders must be paid in full before any work can be performed.
Current Customers: Current customers of RRF customers may request to pay for projects on receipt. Ten-day terms are available for qualifying established customers.
First-time Customers: Credit card or cash payment at the time of order is required for first-time customers or under special circumstances.
All orders must be paid in full before work can commence.
Prices for our products are subject to change without notice.