At Ray Rico Freelance, we value relationships. We are proud to acknowledge that our employees love working here for many reasons — including our love for creativity, amazing clients, dedication to the skill development of our crew. I think that the primary reason we all love working here is that, in terms of our team, we struck gold. Each of our employees is a valued member of the Ray Rico Freelance family so we've decided to let you in on just how awesome our little club is by highlighting each employee in the coming months. Enjoy the interview below, we certainly did!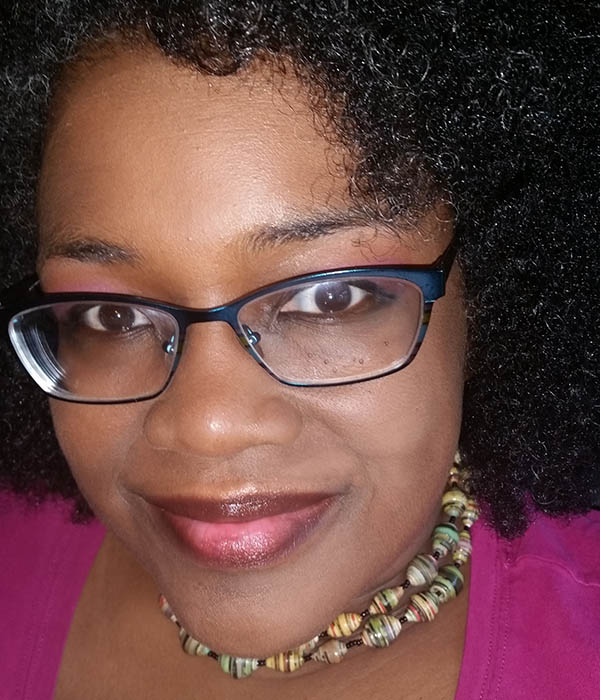 Daphne Butler, recently promoted to Art Director, is a kind, resilient and passionate creative. She exemplifies many of the qualities that help us to grow as an Agency. Her unwavering creative vision help our clients craft memorable and cohesive brands that increase credibility, awareness and ultimately growth in both sales and engagement! 
Let's dive into the interview we had with Daphne about her life, new role, and what she loves about Ray Rico Freelance:
Tell us a little about yourself:
"I have been involved with arts nearly all my life. In elementary school, my main duty was to help decorate the bulletin boards. I practically function on creativity." 
Do you have a favorite quote?
"Something I try to live by…It's all good!"
What is your personal philosophy?
"Nothing can happen until you get up and make it happen."
What is the most important thing you have learned in the last five years?
"I've learned that I am still able to learn more and more in my career. At RRF, I have done much more than just type words on a page. I love how this job has brought me out of the background and challenges me to do more with just a click of the mouse, especially keeping up with the times and using design along with social media to help grow our clients."
What kinds of hobbies and interests do you have outside of work?
"Getting time with my family and friends. I like going to restaurants with cool music… jazz, blues and local flavors even a touch of Afropunk."
How do you define success?
"Being beyond happy with what you're doing to earn your living. Waking up and going to your job and the people around you with no hesitation."
What is the greatest challenge you have had to overcome in your life thus far?
"Accepting that I've gratefully survived quite a few high risk health challenges including brain tumor, spinal problems and gallbladder removal that was almost fatal. I'm still here smiling to serve my purpose in the creative world."
Before working at Ray Rico Freelance (RRF), what was the most unusual or interesting job you've ever had?
"Right after college, I worked at Graceland in the outdoor tours department. It was sooooo fun meeting all the interesting Elvis fans from around the world! I have a lot of his songs burned in my brain!"
How did you first learn about RRF?
"Ray Rico and I worked at the Commercial Appeal together for almost 10 years. When he ventured out to start RRF, he kept in touch with me. And when my time came, there he was to bring me on the team."
If you could pick one theme for RRF to turn into a book about the company, what would it be?
"Growth and success."
What are 3 words to describe RRF? 
"Flourishing, Attentive, Lively (in many ways)"
What do you find the most challenging at RRF?
"Keeping up with the latest offered in design and social media. Not getting comfortable with what I already know and challenging myself to learn more as new ways to advertise comes about."
What do you like most about RRF? 
"Working in a professional scene but still keeping it like a small family."
What have you gained from working at RRF?
"I've gained confidence as a frontman –  growing up as a shy wallflower, this was something I've never expected."
What is on your wish list for the next 10 years with RRF?
"To still be happily working alongside the team. To continue to keep up and learn web and social media skills."
What is your proudest moment at RRF?
"Winning 2015 Horizon Interactive Awards, Best in Category: Promotion/Advertising. This was the first time I've had my work submitted for anything. It's a worldwide event!"
How do you balance your career at RRF and family?
"It's been a great balance working close to home and to my son's schools. Even with the occasional heavy workload and participating in great sponsored events, the job hasn't in any way interfered in personal home life. I love that my son has become a welcome part of the RRF team."
How has RRF helped you in your career development?
"Actually participating and putting my voice in many… or all projects I'm involved in is very significant in my development. Also seeing that clients want more than just a picture on paper has helped me push myself to take on more responsibilities."
What advice do you have for prospective RRF candidates?
"For those looking to join the team, I think it's great to have the initiative to put your all in your career. Get to know about RRF. The services we provide to our clients. We have also worked with great small and large organizations, and participated in local and national events. Don't come into RRF looking to use the job as a "next step" in your career goal, come in showing that you want RRF as your goal. Also, show that even with what you know, you are very open to expanding your skill level." 
What advice would you give to recent new hires?  
"You're on the team! But you're not done. This isn't the office where you can hide behind the monitor. You are expected to participate in the work. Communication between everyone is also expected. Ask questions when needed. Also let us know we can come to you for questions. Show your enthusiasm and you're responsible for learning more… research, tutor yourself. There's so much online to take advantage of. Most important, know you're now in the RRF Family!"