"Everybody can be great, because anybody can serve. You don't have to have a college degree to serve. You don't have to make your subject and verb agree to serve. You only need a heart full of grace. A soul generated by love." – Dr. Martin Luther King, Jr.
We will come together on Monday, January 17, to honor the life and legacy of Dr. Martin Luther King, Jr. – and to provide acts of service to our communities.
MLK Day is the only federal holiday designated as a national day of service to encourage us to volunteer to improve our communities. The day of service is a call to act on Dr. King's legacy of social justice and equity.
In Memphis, Volunteer Memphis and Leadership Memphis encourage us to Care Like King with several days of service – January 13-17. Click here for a list of volunteer opportunities, including gardening, park cleanup, blood drives and more.
Volunteer Memphis and other local organizations are hosting a Care Like the King MLK Health + Wellness Bash from 2 – 4 pm on Saturday, January 15. The event will feature COVID-19 and flu vaccinations, HIV testing, games, food, door prizes, a fitness coach, a live DJ and more. The bash will be at the Hollywood Community Center, Hickory Hill Community Center and the Baptist Women's Health Center. Learn more.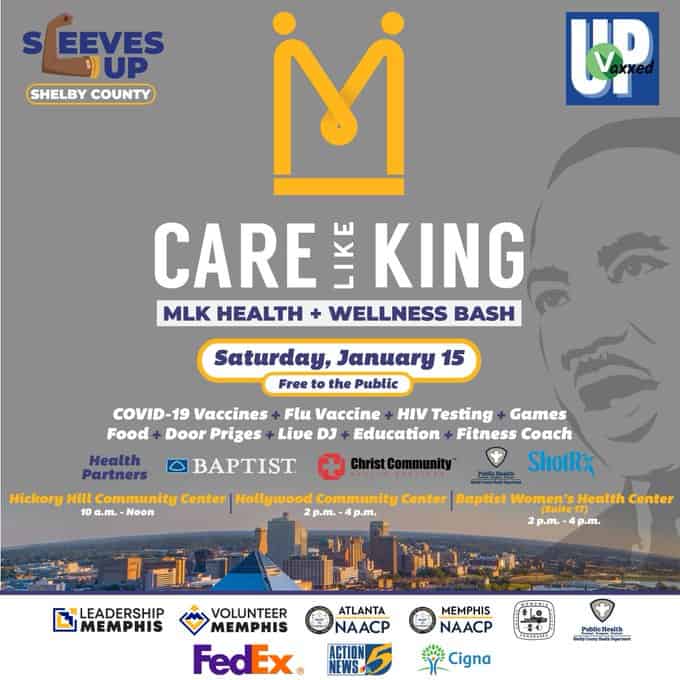 Can't make it to these events? No worries! Volunteer Memphis has a list of other ways you can give back during these Days of Service:
Donate blood
Clean and organize your pantry and donate to the Mid-South Food Bank
Offer to walk dogs in your neighborhood
Make a grocery store or errand run for someone who cannot get out on their own
Organize a neighborhood clean-up on your block with your family
Do a wellness check on distant friends and family who may be struggling during the pandemic
Volunteer at a crisis text hotline
Donate lunches to essential workers
AmeriCorps, which leads the National Day of Service efforts, also has a list of volunteer opportunities.
Visit the Volunteer Memphis site for more ideas.
"Life's most persistent and urgent question is, 'What are you doing for others?'" – Dr. Martin Luther King, Jr.