The world needs more kindness.
The last few years have been tough for everyone, thanks to illness, violence, financial uncertainty and more. We could all use more kindness and grace.
There's no better time to spread kindness than the holiday season. This December, we encourage you to make time for kindness every day of the month.
---
Day 1: Compliment a stranger.
Day 2: Our Focus Center Foundation recognizes and empowers the LGBTQ+ community through the arts, community outreach and partnerships. Donate today.
Day 3: Make care packages to share with unhoused people. Packages could include gloves, socks, hand warmers, blankets, beanies, a bottle of water and maybe a few dollars.
Day 4: Love your local animals! Volunteer your time at or give needed items to animal shelters.
Day 5: While you're at the library, offer to pay a stranger's library fees.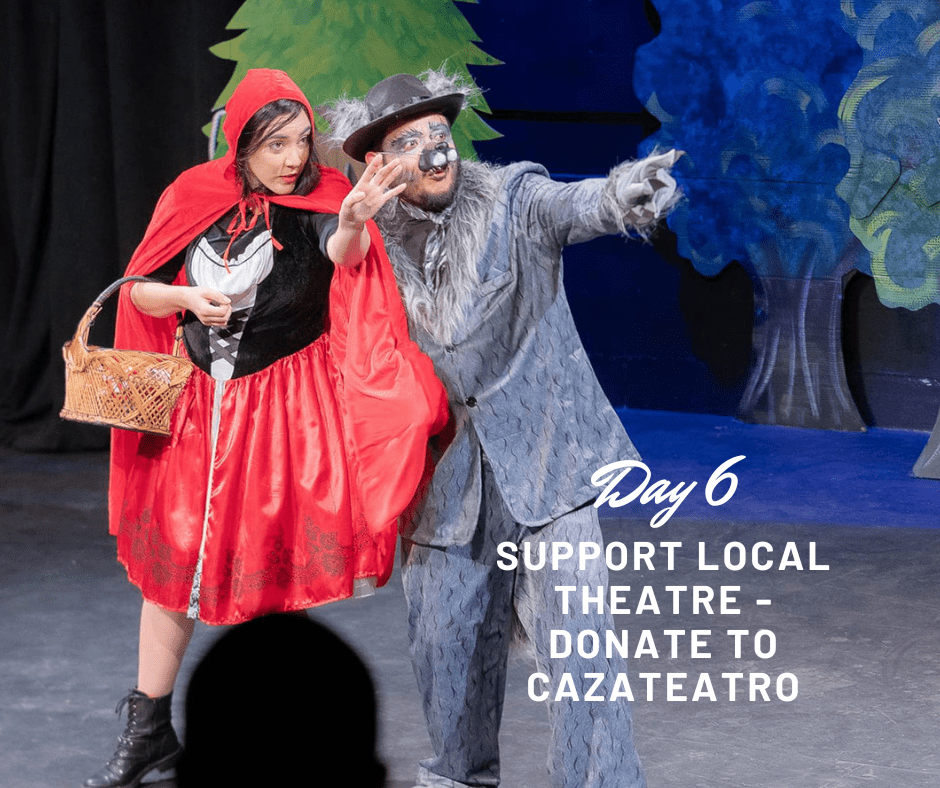 Day 6: Support local theatre! Cazateatro is the only bilingual theatre group in Tennessee and provides bilingual education and transformative multicultural experiences that showcase the diversity and vibrancy of Latin American art and culture. Visit the Cazateatro site and learn about ways to give.
Day 7: How often do you complain? Be mindful of your words and strive for a day of no complaints.
Day 8: Offer to rake your neighbor's leaves.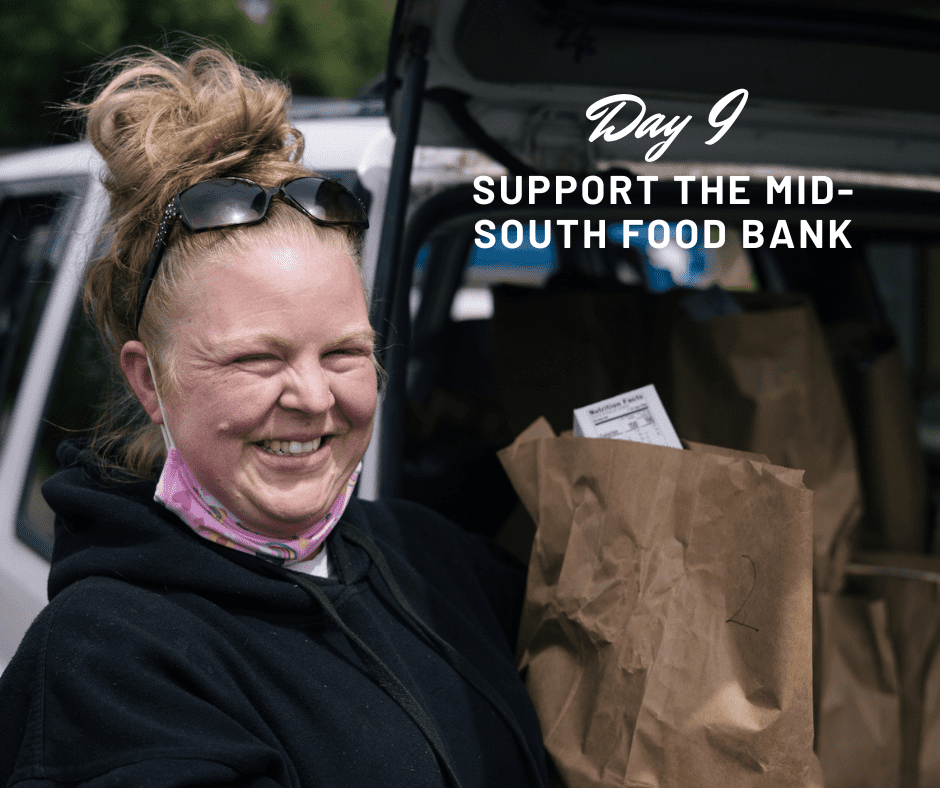 Day 9: Local food pantries are always looking for financial or food donations. Find out more on the Mid-South Food Bank website.
Day 10: Do something kind – leave a note or small treat – for sanitation workers, delivery drivers and postal workers.
Day 11: Donate your talents to a senior citizens' or independent living home. Many of them welcome singers, musicians, speakers, crafters, and artists willing to donate their time and talent. Another idea – play board games with nursing home residents.
Day 12: Leave a bigger tip than you normally would. Consider leaving a 100% tip for that special server, bartender, or stylist who went the extra mile.
Day 13: Can you donate your PTO or sick days to a co-worker who really needs it? Talk to your boss and see if that's a thing your employer allows.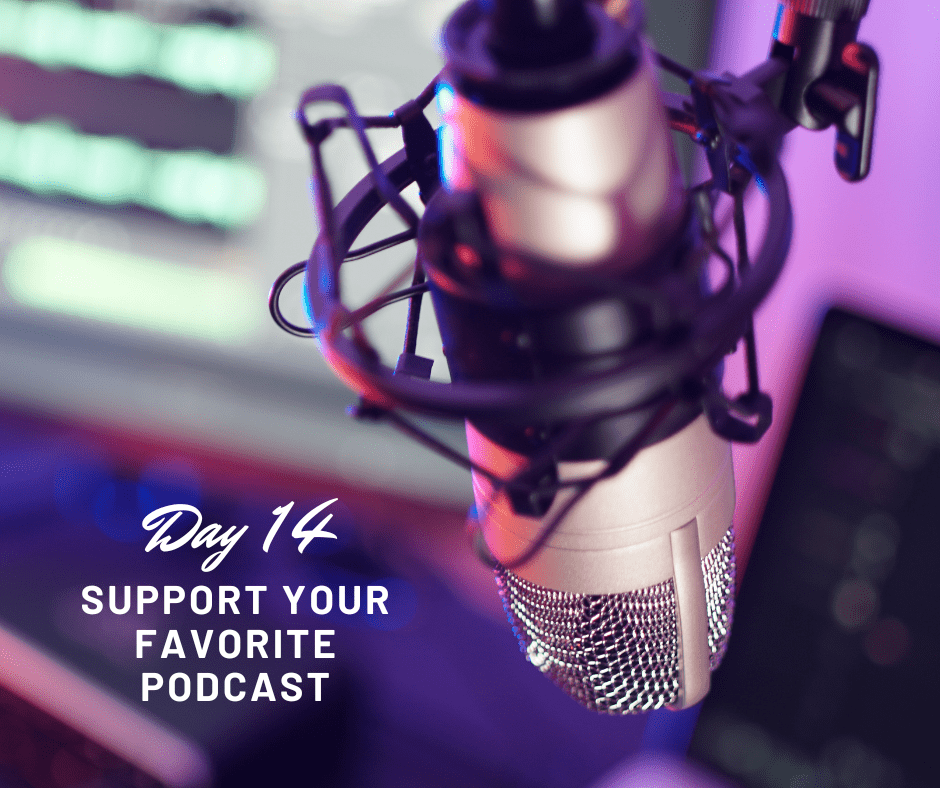 Day 14: Show love for your favorite podcast. Make sure you're subscribed to their feed and leave positive ratings and reviews (if your favorite podcast player allows it). If your favorite podcast has a Patreon, Ko-Fi or any other donation platform, consider giving them a holiday tip or donation.
Day 15: See some trash? Pick it up!
Day 16: We're all going to be out shopping this holiday season, whether it's at a department store or a grocery store. If you use a shopping cart, return it to the cart stall.
Day 17: Write a handwritten thank you letter. Maybe it's to a friend, a local organization or business, or a co-worker.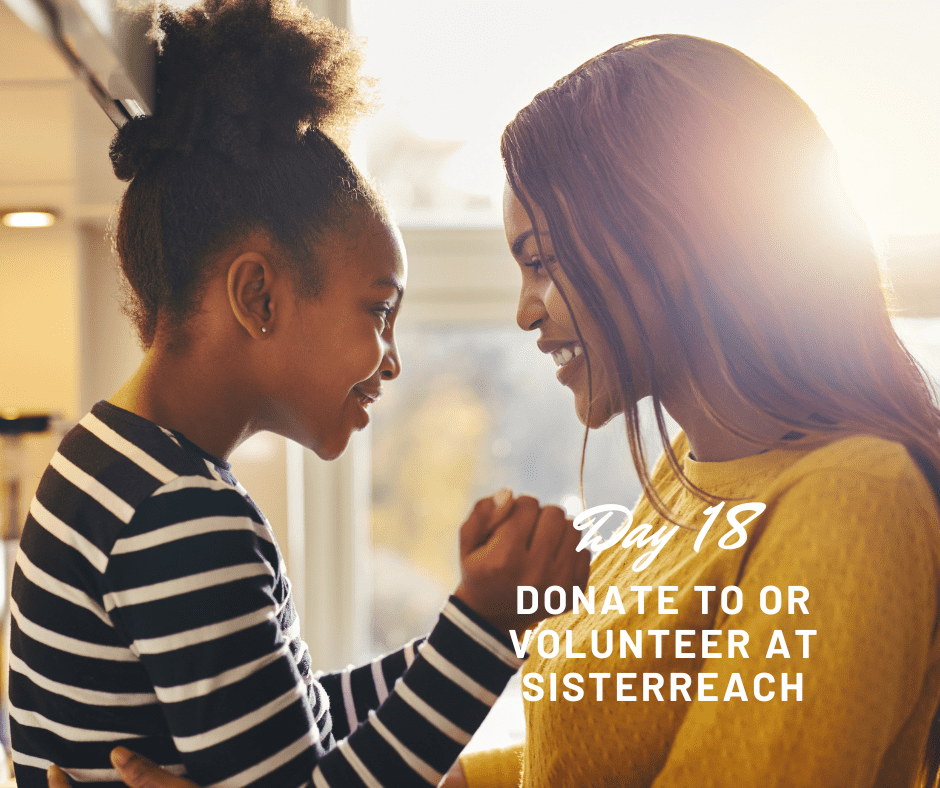 Day 18: SisterReach is a Memphis organization that fights for reproductive justice for women and teens of color, poor and rural people and the LGBTQ+ community. There are many ways to help SisterReach – you can donate to Pearl's Pantry, contribute directly to the organization or volunteer your time. Visit the SisterReach site for more.
Day 19: Send a holiday card to patients at St. Jude.
Day 20: Spread some kindness in Memphis traffic! Don't rush, use your turn signals, and allow other cars to merge into traffic.
Day 21: Leave quarters at vending machines or at the laundromat.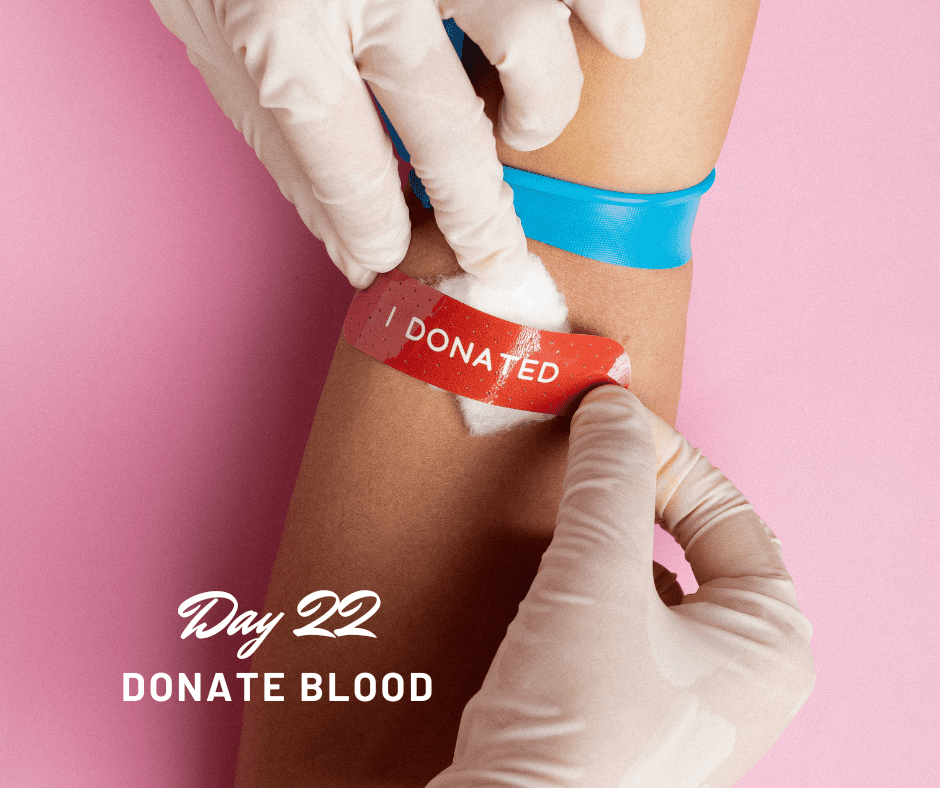 Day 22: If you are able, donate blood. Learn more at Vitalant's website.
Day 23: Clean out your closets! If your items are in good shape, donate them to a local charity.
Day 24: Call or connect with a friend who needs some encouragement.
Day 25: Put down your phone! Focus on who you're with and live in the moment.
Day 26: Pay for someone's meal at a restaurant.
Day 27: Offer to run an errand for someone, or offer to pick up something for a neighbor while you're at the store.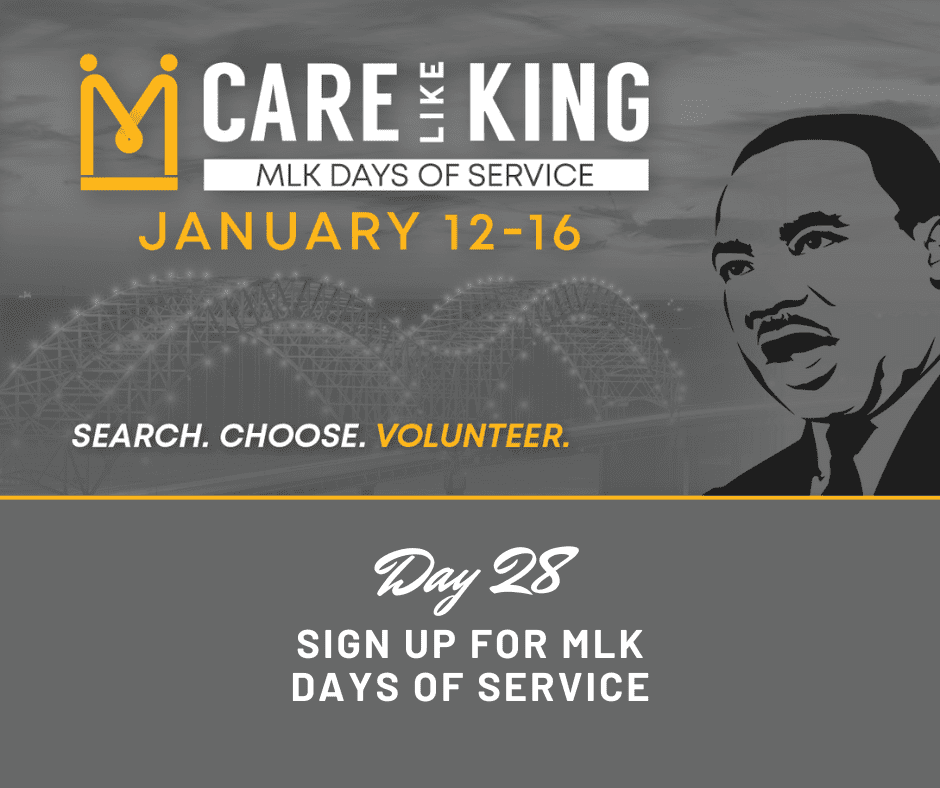 Day 28: Sign up to do good in 2023! Registration is now open for Care Like King MLK Days of Service.
Day 29: Got a way with words? Leave positive messages on sticky notes for others to find.
Day 30: Support local creativity! Shop local from Memphis shops, artists and other merchants. If you can't make a purchase, consider liking and sharing their social media content (leaving a comment is a great idea, too!), or leaving a positive review.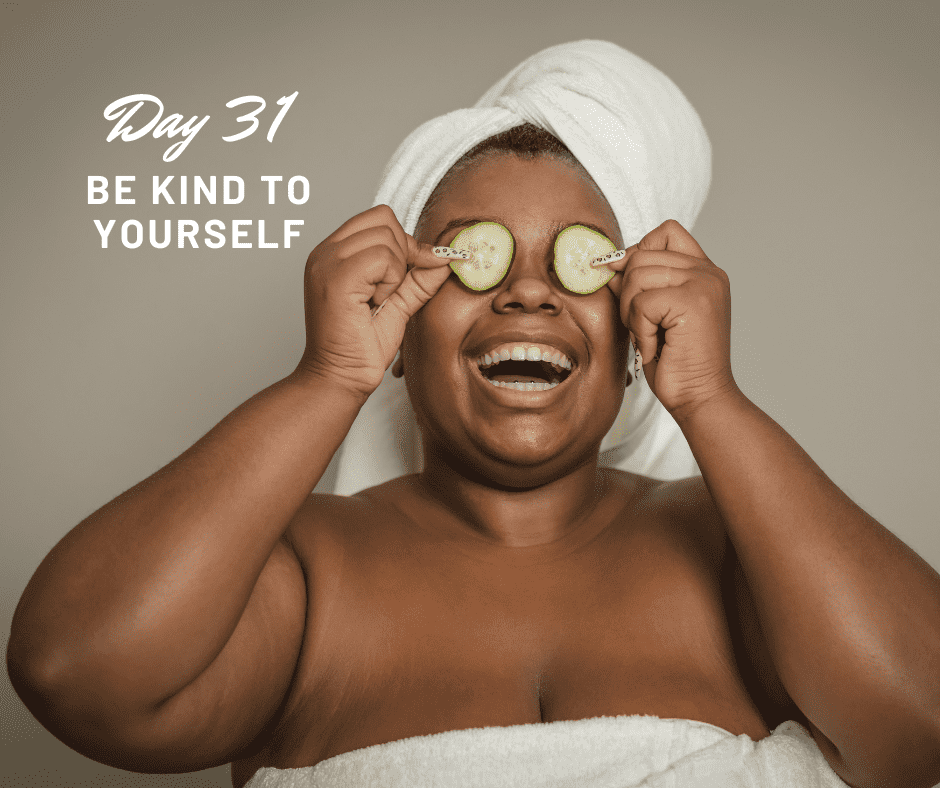 Day 31: Be kind to yourself. You're doing your best, and you deserve some self-care. Remember, you can't pour from an empty cup – so take care of yourself before you take care of others.
Additional reading:
Our 2020 31 Days of Kindness blog