The Ray Rico Freelance team are your Memphis marketing experts – but we're pretty good in the kitchen, too. In celebration of the upcoming holiday season, the team is sharing their favorite Thanksgiving recipes.
We hope you find something that adds a little something special to your holiday, from our families to yours.
---
Rico's Sausage & Cheese Balls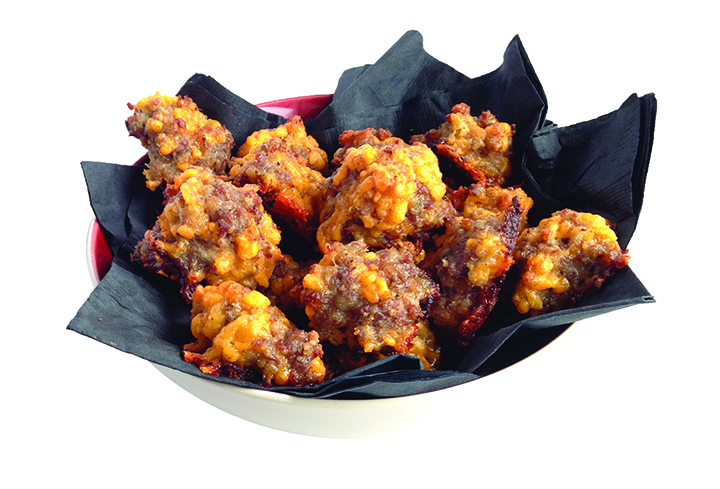 "The fact that my friends love them so much makes me smile. Feeds their bellies and my soul." – Ray Rico, owner
Quick. Easy. Delicious. These sausage balls are a must-have in Rico's home for the holidays.
Ingredients
One of each:
12-oz package of Jimmy Dean sausage
8 oz package of Sargento cheddar cheese
1 egg
1 cup of Progresso Italian Breadcrumbs
Preheat oven to 350° F.
Mix all ingredients in a large bowl.
Spray a baking ban with non-stick spray, or use a sheet of aluminum foil for easy clean-up.
Form into small balls and lump on baking sheet about 1 inch apart.
Bake at 350° F for 25-30 minutes or until cheese is golden brown. Remove and let stand for a few minutes to cool.
Lift from the baking sheet with a spatula, place in or on a serving dish and enjoy.
TIP: For extra tasty and crunchy sausage balls, cook them a little longer so that the cheese on the edge melts and burns slightly.
Elizabeth's Pecan Thanksgiving Recipes
"My dad's side of the family loves pecans & my uncle has a pecan orchard. With so many pecans from the orchard, pecans always seem to make an appearance in some way or another. During the holidays my grandmother has a tradition of making stuffed dates as an appetizer & my dad always churns out his pecan pies." – Elizabeth McDonnell, Account Executive
Stuffed Dates
Slice open date & remove pit.
Put a pecan in the opening.
Roll in sugar.
Pecan Pie
Ingredients:
One 9" pie crust in a pan – frozen is ok
1 cup sugar
¼ tsp salt
½ stick butter melted
3 eggs (one at a time)
Add 1 cup corn syrup
1 tsp vanilla
1 cup chopped pecans
Preheat oven to 350 degrees. Mix ingredients thoroughly. Then, put the mixture in pie pan and bake for 1 hour or less until done
Let sit for at least 30 minutes or more before serving.
Makes 8 servings.
Daphne's Sweetie Pie's Mac and Cheese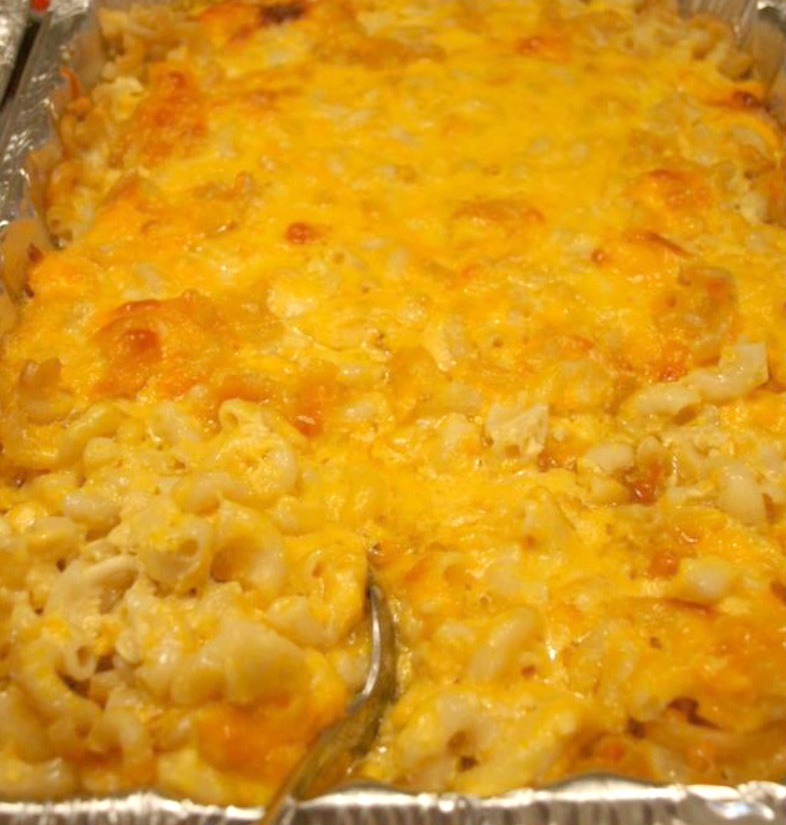 "My son always demanded recipe for the holidays!" – Daphne Butler, Art Director
Ingredients:
1 lb cooked elbow macaroni
1 cup whole milk
2 (12 ounce) cans evaporated milk
3 eggs
1 cup butter, cut into small pieces
1/2 lb each Colby cheese, Monterey Jack cheese and sharp cheddar cheese, shredded
1 lb Velveeta cheese, cut into chunks
salt
1 tablespoon white pepper
1 tablespoon sugar
Either 1 cup shredded American cheese or 1 cup mild cheddar cheese
To begin, preheat oven to 350°C.
Put pasta in 9 by 13 dish and set aside.
Mix milk and eggs well.
Next, add the butter and Colby, Monterey Jack, sharp cheddar, and Velveeta cheeses to the pasta.
Pour milk and egg mixture over the pasta.
Season with salt, pepper, sugar, and toss.
Then, sprinkle with remaining cups of American or Cheddar cheese.
Bake for 30 to 45 minutes or until the top is lightly browned.
Joan's Mom's Buttermilk Pie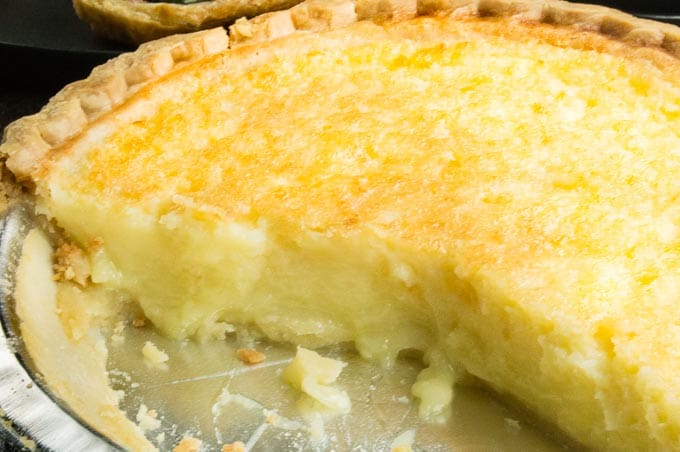 "My mother was a wonderful cook. She was the daughter of a farmer, so the meals they ate were fresh from the garden and simple. She always made our Thanksgiving and Christmas holidays special, from decorations like Christmas trees covered in her beautiful handmade ornaments to delicious meals. One of our favorite things she made for the holidays was Buttermilk Pie. It's a bit hard to describe. It doesn't taste like buttermilk. It's most similar to a chess pie. It's very inexpensive and uses simple ingredients, things you'd normally already have in your pantry. Enjoy!" – Joan Allison, Creative Director
Ingredients:
1 stick of butter, softened
2 Cups of sugar
5 eggs
2 tbsp flour
the juice of half a lemon
1 tsp vanilla
1 cup buttermilk
An unbaked deep pie shell (the ones that are already in a pan)
First, preheat the oven to 325F. Then, using a fork, poke holes in the pie shell and brown in the oven for 5-ish minutes. Remove from the oven.
Cream butter and sugar in a large bowl. Beat in eggs, one at a time. Add remaining ingredients.
Pour mixture into browned pie shell.
Finally, bake for 1 1/2 hours or until the test toothpick comes out dry.
Randall's Cauliflower Gratin
"Nikki and I made this dish the past several Thanksgivings. It's a relatively healthy side, so you feel a little less guilty about the pie. Or maybe it's not healthy. I don't want to know." – Randall Sloan, Traffic Manager
Ingredients:
A large head of cauliflower, cored and cut into florets
1 cup heavy cream
1 tablespoon all-purpose flour
Coarse salt and ground pepper
1/2 cup fresh breadcrumbs1 cup grated Parmesan
1 tablespoon unsalted butter, cut into small pieces
Firstly, preheat oven to 400 degrees. In a large bowl, combine cauliflower, heavy cream, flour, and 3/4 cup grated Parmesan. Season with salt and pepper and toss to combine. Next, transfer the mixture to a 2-quart baking dish, cover tightly with foil, and bake for 30 minutes. In a small bowl, combine 1/4 cup grated Parmesan and breadcrumbs. Sprinkle over cauliflower. Dot with butter and bake, uncovered, until topping is golden brown and cauliflower is tender when pierced with a knife, 10 to 15 minutes. Finally, let cool 5 minutes before serving.
Sheena's S'mores Cookies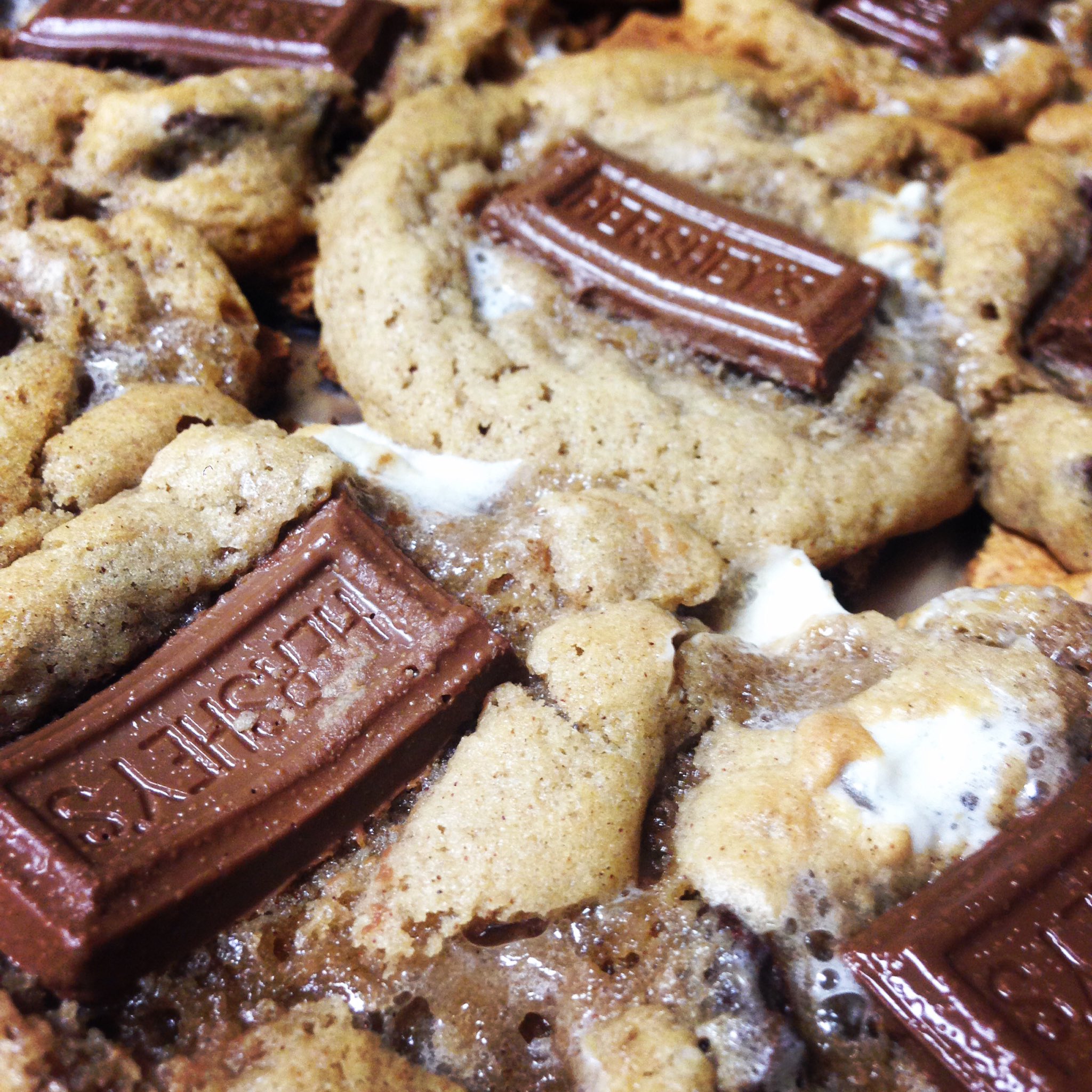 "These are my 'famous' cookies. My friends always ask for them and I've even had people joke that they will name their kids after these cookies. I got the recipe from a site called The Girl Who Ate Everything, but I've made a few changes and adjustments over the years. Here's how I make s'mores cookies. It's a fun Thanksgiving recipe, but really, it can be served all year." – Sheena Barnett, Digital Media Specialist
Ingredients:
11 tbsp unsalted butter, softened
1 cup brown sugar
½ cup granulated sugar
1 tsp vanilla
2 large eggs
1 tsp baking soda
½ tsp sea salt
1 tsp cinnamon (this is listed in the original recipe as "optional." It is not optional in my recipe. I also suggest that you put in as much cinnamon as you want until your soul tells you to stop)
2 ½ cups flour
1/2 cup semi-sweet chocolate chips
1 cup mini marshmallows
3 regular sized Hershey's bars, broken into pieces
1-2 packages cinnamon graham crackers, broken into squares (the original recipe calls for original graham crackers, but trust me on making the switch to cinnamon graham crackers. It takes the recipe over the top.)
Making the Cookies
Firstly, in a medium bowl, whisk together the flour, baking soda, sea salt, and cinnamon to combine. Set aside.
In the bowl of an electric mixer, cream butter with white and brown sugar until light and fluffy. Add the eggs and vanilla and mix until combined.
Add the flour mixture to the butter mixer and combine on low speed.
Then, fold in the chocolate chips and marshmallows. Chill dough in the refrigerator for 1 hour to overnight.
Preheat the oven to 375 degrees. Line baking pans with parchment paper. (no particular size pans needed)
Lay out graham crackers side by side on the pans as close as possible (they should be touching). If you want your cookies thicker you will use more dough and less graham crackers.
Then, place about 1 1/2 tablespoons of dough on graham crackers about 1 – 1 ½ inches apart. Press down slightly with fingertips.

Bake for 5 minutes, then remove from oven to press Hershey's bar pieces on to the top.
Return the cookies to the oven and bake for an additional 5 – 7 minutes or more if your cookies are thicker. They will be done when the edges begin to turn golden brown. Remove to a wire rack to cool. For clean cutting make sure cookies are completely cool and cut with a sharp knife.
Leila's Dad's Classic Green Bean Casserole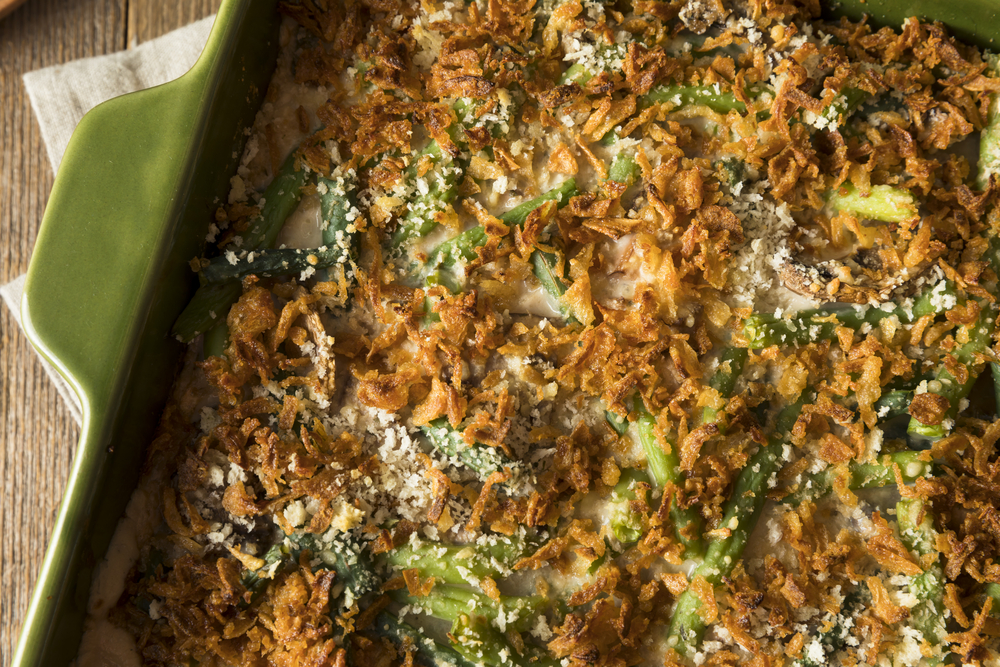 Finance and Operations Manager Leila Hinkle's dad is quite the chef. He was kind enough to share his tried-and-true green bean casserole with us.
Ingredients:
2 bags (approx 24 oz.) whole green beans
1 pkg (16 oz.) fresh mushrooms (these need to be sliced so buy them that way if you don't want to)
1 can evaporated milk
12 oz. chicken stock
1/4 an onion diced
3 tbsp corn starch (stirred into 3oz cold water)
salt, pepper, garlic to taste
1 tbsp thyme leaves
Fried onions

Bring a pot of salted water to a boil and add green beans and cook until they are soft. Drain and set aside. In a large skillet, saute the diced onion and sliced mushrooms. Season with salt, pepper, garlic, and thyme; then, add the stock and evaporated milk.
When it comes to a boil, add corn starch and water mix. Lower heat and stir until thick. In a large bowl, mix the cream of mushroom soup you just made in with the cooked green beans. Put in a greased casserole dish. Top with fried onions – store brand, French's, Durkee, any brand is fine.
Bake at 375 till bubbly, approximately 30 min. This is the basic recipe. Easy enhancements you can make include adding crumbles of bacon or deglazing the mushroom pan with sherry or tawney port.

Enjoy ! 👨‍🍳
---
We hope you enjoy these Thanksgiving recipes. Stay safe and Happy Thanksgiving, friends.
Additional reading:
Learn more about the Ray Rico Freelance Team
Ray Rico Freelance Kicks Off 14th Year of Business